Virtual Learning for K-5 from August 24th-October 16th
Posted 07/25/2020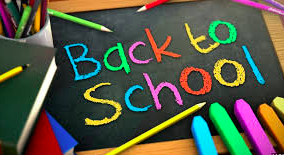 August 13, 2020
Hello Barnum Families,
We are so excited to see our amazing Barnum students and families for the 2020-2021 school year! We really miss all of you! We also look forward to welcoming our new families and our new kindergarten and ECE students! This is certainly a unique situation and being back comes with many emotions during this time of managing Covid19. Please know that we understand each of us has many feelings about the school year. We all want to be back in school, but we need to be back safely both for our students and staff. We are working hard and we have no doubt that we have the resources among our staff to continue providing an excellent education to all students and we will do everything possible to keep everyone safe.
Barnum's leadership team attended district inservices last week to learn the implementation plan and how to best welcome back students and staff. Safety continues to be our top priority while maintaining our tradition of academic excellence and taking our students social emotional needs into consideration as well. In these challenging circumstances, our focus is to work to maintain the unique attributes that make Barnum so special while elevating the need for the health and safety of staff and our students.
Beginning July 27, families will make a selection and enroll in either in-person learning at your school, or a virtual program for each student. Visit www.dpsk12.org/coronavirus/return-2020 for more information about these two options. To take part in Annual Family Update, first make sure you have an active Parent Portal account at https://myportal.dpsk12.org/. Then, sign in beginning July 27. For more information on Annual Family Update, visit http://schoolchoice.dpsk12.org/.
Here are some of the back to school basics:
The week of Aug. 17 Barnum Teachers will connect with individual students and families by phone or video conference, to begin building connections and share class expectations, as well as talk about any additional planning and preparation that may be needed during remote learning. We will also ensure that all students have access to technology and the internet in their homes.
Aug. 24 will be the first day of remote learning. We will continue to review COVID rates with our health partners. The soonest we would start our gradual return to in-person would be October 16th.
Because there is not a remote learning option for district-run early childhood education (ECE) students, unfortunately there will not be any ECE classes until at least Sept. 8. We hope to share more resources for at-home learning with these families soon.
Students will remain with the same cohort group the entire day, and will learn, recreate, transition, and eat together.
Masks are required for everyone.
Traffic flow within the building and procedures for entering and exiting the building will be defined and communicated once finalized.
Desks or tables will be arranged facing the same direction. Students should be assigned their own bag/box of materials to use throughout the year. Supplies brought by students should ONLY be used by that student.
All meals & snacks will be consumed in classrooms, outside, or in reorganized common spaces and monitored by staff. Students will go to the cafeteria to pick up "grab and go" hot lunches.
See the district Restart Plan for more details
For now we have a few asks from our community to help in our planning process.
1) Read the Restart Plan. After reviewing the plan, please register for each student who will attend Barnum Elementary during the 2020/21 school year. This form will help our school determine scheduling and resources and we really need you to fill out this form as soon as possible. This is important for our staff to plan for the upcoming school year and we will accommodate later requests to the best of our ability.
2) Students and staff will be required to wear masks in the school building, unless they are eating. Please have your student practice wearing a mask for extended periods of time. Also, please have your student wash their hands several times a day.
3) Please be flexible with us this year! We have not been through this unique situation before, but together we have the resources to support each other and make this a great year!
Thank you so much for your support. We are all in this together and we cannot think of a better community to support one another through this challenging time. Things seem to be changing every day so if you have suggestions, solutions or questions regarding the current contents of the Restart Plan, we can forward them to district leadership for response. If you have specific questions for your family, please feel free to reach out to us. 720-424-9590
Thank you so much and enjoy the rest of your summer break,
Beth Vinson Gelmarie Ortiz
Principal Assistant Principal
Barnum Elementary Barnum Elementary
elizabeth_vinson@dpsk12.org gelmarie_ortiz-nieves@dpsk12.org
720-424-9590 720-424-9596
Hola familias de Barnum,
Estamos emocionados por ver a nuestros estudiantes y las familias de Barnum para el año escolar 2020-2021. ¡Los extrañamos mucho a todos! También, anticipamos la bienvenida de nuestras nuevas familias y nuestros estudiantes de Kindergarten y de primaria infantil. Estamos en una situación única y entendemos que hay muchas emociones al regreso escolar durante este momento de Covid19. Espero que sepa que entendemos que cada uno de nosotros tenemos muchas emociones sobre el año escolar. Todos queremos regresar a la escuela, pero todos tenemos que regresar seguramente para ambos, los estudiantes y el personal. Estamos trabajando duro y no tenemos duda que tenemos los recursos entre nuestro personal para continuar proporcionando una educación excelente a todos nuestros estudiantes y haremos todo lo posible para mantener a todos seguros.
La semana pasada, el equipo de liderazgo de Barnum asistió a varios entrenamientos del distrito para aprender sobre el plan de implementación y cómo dar la mejor bienvenida a nuestros estudiantes y personal. La seguridad de todos es nuestra primera prioridad mientras mantenemos nuestra tradición de excelencia académica y consideramos las necesidades socio-emocionales de nuestros estudiantes. En estas circunstancias desafiantes, nuestra concentración es trabajar para mantener las cualidades únicas que hacen que Barnum sean tan especiales. Al igual, estamos asegurándonos de elevar las necesidades de salud y seguridad de nuestros estudiantes y el personal.
Empezando el 27 de julio, las familias tomarán la selección e inscribirán a su(s) hijo(s) en el aprendizaje en persona o el programa virtual. Visite a www.dpsk12.org/coronavirus/return-2020 para más información sobre estas dos opciones. Para participar en la Actualización anual de familias, primero asegúrese de tener una cuenta activa en el portal de padres en https://myportal.dpsk12.org/. Luego, registrese empezando el 27 de julio. Para más información sobre la Actualización anual de familias visite a http://schoolchoice.dpsk12.org/.
Aquí tiene información básica sobre el regreso escolar:
Durante la semana del 17 de agosto, los maestros de Barnum se conectarán con estudiantes y familias por teléfono o videoconferencia para empezar a construir conexiones y para compartir las expectativas de la clase, al igual que hablar sobre planes y preparaciones adicionales que pueden ser necesarias durante el aprendizaje remoto. También, nos aseguraremos de que todos los estudiantes tengan acceso a la tecnología y el internet en sus hogares.
El 24 de agosto será el primer día de aprendizaje remoto. Continuaremos revisando las tasas de COVID con nuestros compañeros de salud. Lo más pronto que empezaremos el regreso gradual del aprendizaje en persona será el 16 de octubre.
Desafortunadamente, cómo no hay una opción de aprendizaje en remoto para los niños de primaria infantil, no habrá clases hasta el 16 de octubre. Esperamos compartir pronto más recursos para el aprendizaje en casa con estas familias.
Los estudiantes se mantendrán con el mismo grupo durante el día escolar; aprenderán, recrearán, harán transición y comerán juntos.
Se requiere máscaras para todos.
Nos comunicaremos ya que hayamos finalizado y definido el flujo de tráfico dentro del edificio y los procedimientos para entrar y salir del edificio.
Organizaremos los escritorios o las mesas mirando a la misma dirección. Se le debe asignar su propia bolsa o caja de materiales a cada estudiante durante el año escolar. SOLO ese estudiante puede usar los materiales escolares que trajo.
Todas las comidas y meriendas serán consumidas en el salón,afuera, o en lugares reorganizados y monitoreados por nuestro personal. Los estudiantes irán a la cafetería para recoger almuerzos calientes rápidos.
Para más detalles, vaya al plan de reinicio.
Por ahora, tenemos algunos pedidos de nuestra comunidad para ayudar con nuestro proceso de planificación.
1) Lea el plan de reinicio. Después de leer el plan, por favor registre a todos los estudiantes que asistirán a la escuela Barnum para el año escolar 2020/21. Este formulario ayudará a nuestra escuela y determinará el horario y los recursos. Necesitamos que complete este formulario lo antes posible. Esta información es importante para la planificación del año escolar. Acomodaremos la solicitud posterior lo mejor que podamos.
2) Requerimos que todos los estudiantes y personal usen máscaras en el edificio, a menos que estén comiendo. Por favor haga que los estudiantes practiquen usando máscaras por periodos largos. También haga que los estudiantes se laven las manos varias veces al día.
3) ¡Por favor tenga flexibilidad con nosotros este año escolar! No hemos pasado por esta situación única antes, pero juntos tenemos los recursos para apoyarnos el uno al otro este año.
Muchas gracias por su apoyo. Estamos juntos en esto y no podemos pensar en una mejor comunidad en donde nos apoyaremos el uno al otro durante este tiempo desafiante. Las cosas parecen cambiar todos los días y si tiene sugerencias, soluciones o preguntas sobre el contenido en el plan de reinicio, se las podemos enviar al liderazgo del distrito. Si tiene preguntas específicas para su familia, por favor comuníquese con nosotros. 720-424-9590
Muchas gracias y disfrute del resto de su verano,
Beth Vinson Gelmarie Ortiz
Directora Subdirectora
Barnum Elementary Barnum Elementary
elizabeth_vinson@dpsk12.org gelmarie_ortiz-nieves@dpsk12.org
720-424-9590 720-424-9596