Isabel Guillen
Team Specialist and S-1st Grade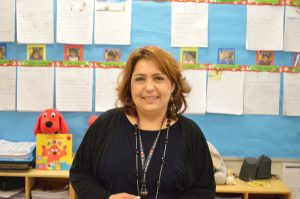 Email:
Maria_Guillen@dpsk12.org
Phone:
720-424-9651
First Grade
---
I was born in Aguascalientes, Mexico. I studied in Guadalajara to become a Lawyer. Then, I came to United States and became interested in the field of Education. I began working for Denver Public Schools. At the same time, I went to University of Colorado at Denver to study the Masters in Curriculum and Instruction. I have been working as a teacher for more than 20 years. In my spare time, I enjoy reading. I also love traveling with my children. I love opera and musical plays. I am married and have three sons.
What do I love about Barnum?
I love the Barnum community. Parents are very respectful and cooperative. I also enjoy working with the teachers at Barnum. They are great colleagues, respectful and friendly. I feel I share the same values with them. We have a great deal of mutual understanding.
My Favorite Barnum Trait:
My favorite trait is love of learning because every time I learn something new I feel I am reinventing myself. I believe learning makes evolve in a better self.
Hometown:
Mexico
College/University:
University of Colorado at Denver
Favorite Book:
Amor en tiempos del colera
Favorite Quote:
"Pies para que los quiero si tengo alas pa' volar.""
What I Love about Barnum Elementary:
I love the families of students who attend Barnum elementary.