Alexandra Ramirez Torres
Reading Intervention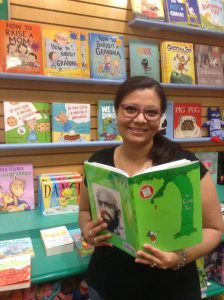 Email:
alexandra_ramireztorres@dpsk12.net
Support Staff
---
I am from Colombia. I live with my husband and my 2 high school daughters in Lakewood. I have 2 dogs. I have been a teacher for more than 17 years. I taught in Colombia for more than 10 years. I taught 5th grade, 2nd grade and 1st grade there. I travelled to North Carolina to be part of a Dual Language program teaching Spanish in 2009. I taught in NC for 5 years; 3 years as a 2nd grade teacher and 2 years as a Kindergarten teacher. Then, my family and I came to Denver in 2014. I taught 1st grade for 2 years. Last year, I was a Spanish Literacy support teacher. I worked with small groups in K, 2nd, 3rd, 4th and 5th grades. I am so excited to be a Kindergarten teacher again!!
My Favorite Barnum Trait:
Kindness is my favorite trait because when we practice kindness, we can brighten somebody's day as well as make ourselves happier.
"There is no small act of kindness. Every compassionate act makes the world larger" Mary Anne Radmacher
Hometown:
Bogota, Colombia
College/University:
National University of Colombia
Bogota, Colombia
Favorite Book: 
The Giving Tree by Shel Silverstein
Favorite Quote:
"The more that you read, the more things you will know, the more that you learn, the more places you'll go." Dr. Seuss
What I Love about Barnum Elementary:
I love the community!! I am so excited to be part of this community.