History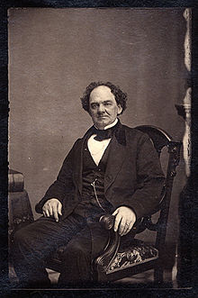 Phineas Taylor "P. T." Barnum (July 5, 1810 – April 7, 1891) was an American showman and businessman remembered for promoting celebrated hoaxes and for founding the Barnum & Bailey Circus.[1] Although Barnum was also an author, publisher, philanthropist, and for some time a politician, he said of himself, "I am a showman by profession…and all the gilding shall make nothing else of me." P. T. Barnum bought land in the Denver area in 1878 to "winter" his circus. This area is now called the Barnum neighborhood.
Barnum Elementary School was built in 1921 in a Spanish Colonial Revival style. Additions were made in 1924, 1928, 1950 with the latest addition completed in 1994. The latest renovations include enlarged classrooms, 2 kindergarten classrooms, gymnasium, library, cafeteria, multipurpose room and science and technology labs. An original outside entrance was preserved and now serves as a wall for the addition. Mechanical and electrical systems were completely upgraded as well.
Murals of Denver and Colorado are located throughout the school. Stone shields and crests are located at many entrances to the building.