Diana Salinas
1st Grade ELA-S Teacher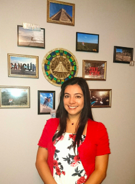 Email:
diana_salinas@dpsk12.net
First Grade
---
Hi, my name is Diana Salinas, but everyone calls me Mrs. Sali. I am so excited to be part of Barnum Elementary because I am a believer that kindness, respect, responsibility, creativity and love for learning are the key elements a successful learning environment. This will be my first-year teaching at Barnum Elementary, but my sixth-year teaching first grade. I love first graders because they have a very unique view of the world, they are like sponges, soaking up every stimulus around them.
I have a bachelor's degree is in preschool education, a Specialization in Bilingualism and a master's degree in teaching English to speakers of other languages. If you ask me, the most important degree in my heart and in my mind is the one granted for most of my children as the "Best teacher of the world". See copy of my degree below. 😉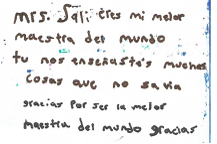 I grew up in a big city; Bogota Colombia with my loving parents and two older brothers. In 2013 I started my adventure as International teacher in North Carolina teaching first grade and third grade.  My husband Fredy, my baby dog Coco and I are so excited to begin a new adventure in Denver CO. We are ready to make new friends, visit new places and grow our new students.
I can't wait to meet you in person, I hope to see you soon.
Love,
Mrs. Sali